We offer quality exercise rehabilitation for patients in Midtown, NY.
Dr. Valente uses a variety of chiropractic therapies combined with exercise rehabilitation to provide our patients with the effective relief of pain conditions.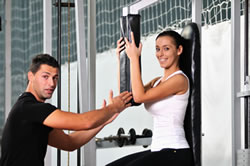 Exercise rehabilitation is a critical component of chiropractic care since it supports the process of active recovery. Multiple medical studies show how exercise rehabilitation combined with chiropractic can provide lasting relief of migraine, headache, back pain, neck pain, and more. While any increase in physical activity can improve your health, Dr. Valente will teach you how to use specific, targeted exercise to recover from ongoing pain.
Exercise Rehabilitation for Back and Neck Pain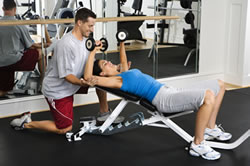 When you injure your back or neck, you may develop fibrous adhesions or scar tissue within your spinal joints that result in restricted range of motion and pain. After an overuse injury or an auto accident, you also may develop trigger points--or hyperirritable spots of pain located in taut muscle fibers--that further limit your mobility. Back pain and other musculoskeletal conditions can be exacerbated by being overweight or having poor muscle functioning.
Exercise rehabilitation, in combination with chiropractic, will gently break up fibrous adhesions and trigger points to restore the mobility of your spine and muscles. Improved mobility means better functioning, less disability, and reduced pain. Through core-strengthening and targeted exercise treatments, Dr. Valente can help you rebuild flexibility and strength. Study after study has shown that exercise is an effective, efficient way to prevent and relieve spinal pain.
Exercise Rehabilitation for Headache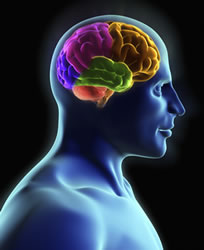 Headache has a number of causes. Depending on the type and severity of headache you have, exercise rehabilitation may be able to help. Stress and muscle spasms are significant factors in the onset of headache. Exercise rehabilitation can relieve stress and release muscle tension by improving flexibility. One study showed that exercise was as effective as a drug for preventing migraines in women.
Cervicogenic headache resultd from damage or injury to your neck or cervical spine, so patients with these headache often have restricted neck range of motion. Exercise rehabilitation and chiropractic can help to reduce neck disability to relieve cervicogenic headache.
Exercise Rehabilitation for Arthritis and Joint Pain
Joint injuries or arthritis can cause inflammation and the buildup of scar tissue which restricts your range of motion. Targeted exercise therapies can restore joint mobility for effective relief of arthritis, knee pain, hip pain, wrist pain, and more.
For effective pain relief, call Dr. Valente today at (917) 338-7917.