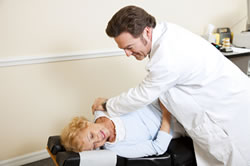 Most people are familiar with the fact that a chiropractor can help decrease back pain. Then again, there are some advantages of visiting a chiropractor that are less well-known. These health benefits may just boost your overall health and sense of well-being.
Perks of chiropractic care entail:
It produces natural healing. Although most other treatment options include medications and potentially surgery or injection therapy, chiropractic encourages your body in treating itself naturally.
It can decrease digestive issues. If you have a hard time with digestion, routine chiropractic visits can often lessen symptoms.
You sleep better. When you are not affected by neck or back pain, your standard of sleep improves, supporting you to feel more focused and full of energy.
It can decrease your blood pressure. If your spine is misaligned, things like your blood pressure won't be maintained properly, putting you at risk of these types of health issues.
It can prevent future injuries. Whether you're an athlete or just an active individual, seeing a chiropractor regularly can increase your resilience to injuries and shorten recovery time between workouts. Dr. Valente offers sports injury treatment and prevention in his Midtown East office.
It reduces stress levels. Research shows chiropractic can assist in how your body responds to stress and pain processing, in addition to lowering cortisol levels.
It can enhance your balance. The more durable and healthy your spine is, the less difficult it is to balance, potentially preventing a personal injury due to poor balance like a slip and fall.
So if you're curious about what chiropractic can do for you, give Dr. Valente in Midtown East a call. You may wonder why you didn't call him sooner.
References
Ogura, Takeshi and Manabu Tashiro, Mehedi,Shoichi Watanuki, Katsuhiko Shibuya, Keiichiro Yamaguchi, Masatoshi Itoh, Hiroshi Fukuda, Kazuhiko Yanai. Cerebral metabolic changes in men after chiropractic spinal manipulation for neck pain. Alternative Therapies. 2011, November/December; 17 (6): 12-17.
McMasters KL, et al. Blood pressure changes in African American patients receiving chiropractic care in a teaching clinic: a preliminary study. Journal of Chiropractic Medicine 2013; 12(2): 55-59.
Knutson G.A. Significant changes in systolic blood pressure post vectored upper cervical adjustment vs resting control groups: a possible effect of the cervicosympathetic and/or pressor reflex. Journal of Manipulative and Physiological Therapy 2001;24(2):101–109.